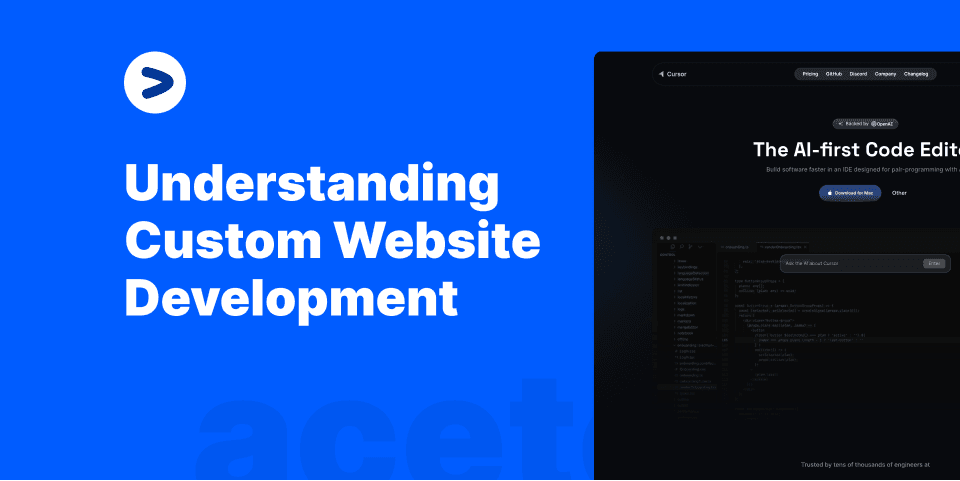 Understanding custom website development
Introduction
In the digital age, a company's website is often the first point of contact for customers. It's crucial that this online representation is not only functional and aesthetically pleasing but also unique and tailored to the specific brand. This is where custom website development comes in.
Custom website development is the process of creating a website from scratch, specifically tailored to the needs and objectives of an individual business. Unlike template-based designs, custom website development allows for complete control over every aspect of a site's design and functionality. This level of bespoke design and development is quickly becoming a necessity in the ever-competitive field of web design.
The Custom Website Development Process
The process of custom website development typically involves five key stages:
Initial consultation and project planning: This stage involves defining the project scope, objectives, and timeline. It also includes establishing how the site will meet business needs and align with the brand's identity.
Design phase: In this phase, designers create wireframes, prototypes, and design concepts for the site. They focus on user experience (UX), user interface (UI), and visual design elements.
Development phase: This is where coding comes in. Web developers build the site's architecture, integrate necessary functionalities, and ensure compatibility across various browsers and devices.
Testing and Quality Assurance (QA): The website undergoes rigorous testing to identify and fix any bugs or issues. Testing includes functionality checks, performance testing, security audits, and user acceptance testing (UAT).
Launch and ongoing maintenance: After launch, regular updates, backups, security checks, and content updates are necessary to keep the site running smoothly.
Benefits of Custom Website Development
Custom website development offers numerous benefits that can significantly enhance a business's online presence:
Unique design tailored to specific business needs: Custom websites allow for a unique design that aligns perfectly with a brand's identity and caters to its specific audience.
Scalability and flexibility for future growth: Custom sites are built with scalability in mind, allowing for easy additions or changes as the business grows.
Control over every aspect of the website: With a custom site, businesses have complete control over their site's design, functionality, and technology used.
Enhanced website performance and speed: Custom websites are optimized for speed and performance which improves user experience and SEO ranking.
Better SEO opportunities: Custom-built websites tend to be more SEO-friendly due to their clean coding structure and ability to implement advanced SEO techniques.
Why Businesses Should Consider Custom Website Development
Beyond the aforementioned benefits, investing in custom website development can offer businesses significant competitive advantages:
Unique online presence: A custom-built website stands out from cookie-cutter sites, giving businesses a unique online presence that sets them apart from competitors.
Cost-effectiveness in the long run: While upfront costs may be higher than template-based sites, custom websites can prove more cost-effective in the long run due to their scalability and longevity.
Meeting specific business goals: Custom websites can be built with specific business goals in mind, whether it's increasing conversions, improving customer interaction, or enhancing brand awareness.
Case Studies of Successful Custom Website Development Projects
To illustrate these points further, let's look at some successful custom website development projects:
Editorially was initially a course platform built on Wix, offering a limited range of features and customization options. The team behind "Editorially" saw the potential in expanding their platform and decided to invest in custom website development. This decision led to the creation of a unique and user-friendly online learning experience that differentiated Editorially from its competitors. Post-development, there was a significant improvement in user engagement and course enrollments, with a recorded 60% increase in sales. This increase was attributed to the enhanced design and improved functionality that the custom development provided. The Editorially project is a testament to the significant benefits that custom website development can bring to businesses.

Algochurn started as a platform to assist frontend engineers in preparing for technical interviews, initially built using a generic template. While it served its initial purpose, the team recognized the need for a more personalized and efficient system to better cater to their user base. Therefore, they decided to transition from a template-based website to a custom-developed platform.

The transformation allowed "Algochurn" to provide a more tailored and interactive experience to its users, resulting in improved user engagement and success rates in technical interviews. The custom platform was also equipped with a robust content management system (CMS) to handle its expansive database of interview questions and resources. After implementing their custom CMS, "Algochurn" reported a 70% increase in efficiency in content management. This not only streamlined their operations but also allowed them to consistently update and expand their content, further enhancing the value they provide to their users. The success of "Algochurn" underlines the significant advantages of custom website development.
These case studies demonstrate how impactful custom website development can be when tailored towards specific needs and goals.
Conclusion
Custom website development is more than just creating a unique online presence; it's about building an efficient and effective tool that meets your business's objectives while providing an exceptional user experience. As web design specialists, it's important to understand this process thoroughly – from consultation to launch – to deliver the best possible results for clients.
Remember, staying informed is key to keeping up with trends and delivering cutting-edge solutions in this fast-paced field of web design.

posted by Manu Arora