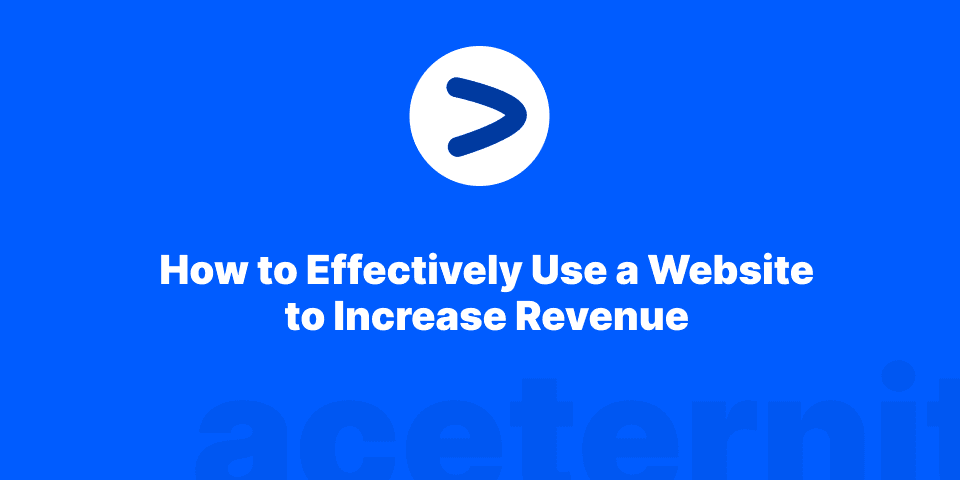 How to Effectively Use a Website to Increase Revenue
For business owners, having an online presence is essential for success. With the internet becoming an increasingly important part of everyday life, having a website is a great way for businesses to reach new customers and increase revenue. In this blog post, we will discuss how to effectively use a website to increase revenue. We will cover topics such as establishing an online presence, implementing search engine optimization (SEO), establishing trust, using testimonials, creating call to actions, and increasing your audience.
Establish an Online Presence
Having a website is essential for any business looking to increase their revenue. A website gives customers the opportunity to learn more about your business and the products and services you offer. It also helps to build brand recognition and trust with customers.
When launching a website, it's important to make sure that it's user-friendly, visually appealing, and optimized for mobile devices. It's also a good idea to include a blog section on your website to provide customers with useful information and keep them engaged.
When establishing an online presence, it is important to include contact information such as your business address, phone number, and email so customers can easily reach out with questions or concerns. Additionally, it is helpful to link to any social media accounts associated with the business so that customers can follow and engage with you on those platforms. This will help create a more personal connection between the customer and the company which could lead to increased sales.
Implement Search Engine Optimization (SEO)
Search engine optimization (SEO) is an important factor when it comes to increasing website traffic and revenue. SEO helps your website rank higher in search engine results, making it easier for potential customers to find you.
When optimizing your website for SEO, there are a few things you should keep in mind. First, make sure that your content is well-written and relevant to your target audience. You should also focus on using keywords throughout your website and in the titles and descriptions of your pages. Additionally, create backlinks to other websites and make sure that your website is fast loading.
Establish Trust
In order for customers to purchase from you, they need to trust that you're providing quality products and services. You can establish trust by providing detailed product descriptions and customer reviews on your website.
You should also make sure that customers have secure payment options when making purchases. Additionally, include contact information on your website so that customers can easily reach out to you if they have any questions or concerns.
Finally, it's important to ensure that your website is secure and up-to-date. Having an SSL certificate on your website will help customers feel safe entering their information, as well as give them peace of mind that their data is being handled securely. Additionally, make sure to keep all plugins and themes up-to-date with the latest versions so you can avoid any potential security risks.
Use Testimonials
Testimonials are an effective way of increasing revenue by building customer trust and highlighting the quality of your products or services. Testimonials are also great for SEO since they can help boost your ranking in search engine results.
When creating testimonials, make sure they're genuine and from real customers. You should also focus on creating testimonials that are specific to your products or services. Additionally, include photos of the customer giving their testimonial if possible as this will help add credibility to the testimonial.
Call to Actions
Creating effective call to actions (CTAs) on a website is a great way to encourage customers to take the desired action, such as making a purchase or signing up for a newsletter. When crafting CTAs, it's important to keep them clear and concise so that customers understand exactly what they need to do next. Incorporating strong action words such as "buy now" or "sign up" can also be helpful in creating urgency which will motivate customers into taking immediate action.
Additionally, make sure your CTA stands out from other elements on the page by using contrasting colors and fonts that grab attention while still remaining true to your brand aesthetic. Placing CTAs strategically throughout your web pages will also help draw more attention toward them and potentially lead to more conversions overall.
Increase Your Audience
In order to increase revenues, you need to increase your audience by driving more traffic to your website. A few ways you can do this include optimizing your content for SEO, creating high-quality content that's valuable for readers, engaging with customers on social media platforms, and running online advertising campaigns. Additionally, you should focus on building relationships with influencers in your industry who can help increase awareness of your brand and drive more traffic to your website.
Conclusion
In conclusion, using a website effectively is an essential part of increasing revenue for any business owner. By establishing an online presence, implementing SEO strategies, establishing trust with customers, using testimonials, creating call to actions, and increasing your audience, you can significantly boost your revenues with the help of a website.

posted by Manu Arora